Women's Ministry
Bible Study Classes
We are so excited to come back together, deepen our knowledge and relationship with Christ and with each other. Below are the curriculum options for this fall. There are a variety of curriculum offerings that vary among location options. We are looking forward to a fantastic year of women's Bible studies. Tuesday mornings will provide three options at 6:30am, 9:15am and 10:30am.
God of Freedom: A Study of Exodus 19-40, by Jen Wilkin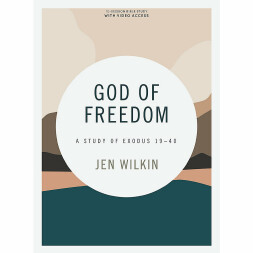 Tuesdays 9:15am - 11:15am (childcare available by registration*)
Study begins March 14, 2023 (meets in the conference room off cafe)
While this is a continuation of our study in Exodus, don't let that stop you from starting here. Anyone is welcome to join at any time and you will find Jen Wilkin's style of study and teaching to be helpful in this as well.
Every book of the Bible tells us what is true about God. In Genesis we see Him as Creator and Covenant Maker. In Exodus we see Him as our strong Deliverer who sets us free from sin and death.

In this 10-session study of Exodus 19–40, journey through the story of how God shepherds His newly-liberated children into an understanding of what their freedom means: lives consecrated for service to God and to one another. Revisit familiar scenes of the giving of the Ten Commandments, the idolatrous worship of a golden calf, and of the intricate details of the tabernacle. And with fresh perspective, ask what these stories teach God's children today about how to live as those set free.

In every page of the Bible, learn to see Christ through the stories of His people. And discover how the God who created you and made a covenant with you will deliver you from death to life, for His name and renown.
*Childcare is available. Each study begins a new session, so please re-register for childcare if you wish to continue participation and guarantee space.
Continuing On:
Where Do We Go From Here?: Strategic Living for Stressful Times, by Dr. David Jeremiah
Tuesday 6:30am - 8:00am
Anyone welcome to join at any time (meets in the conference room off cafe)
Have you wondered how biblical prophecy relates to current events? Biblical prophecy helps us discover God's purpose for all of the chaos around us. And in this new study guide, Where Do We Go From Here?, Dr. David Jeremiah looks at issues we are experiencing in our culture today and explains how they are linked to biblical prophecy. Along the way, he also provides practical ways to live with hope and courage in the face of these daunting times.
We are a 1 Thessalonians 2:8 Ladies Small Group Bible Study, which stands for "So we cared for you because we loved you so much we were delighted to share with you not only the gospel of God, but our lives as well."
Please contact Tami Ruble to order your book and study or with your questions by email here or at 763-333-0733.
A Closer Look at the 10 Commandments
EVERY OTHER Tuesday 10:30am-11:30am, with Rob Snavely (on the off weeks the group will meet for more social time)
Online via Zoom
This group will continue through spring season. Anyone welcome to join at anytime.
This is a Scripture-based look at the Ten Commandments. It's exciting to see just how much God has to teach us about Himself through these familiar passages! No homework is required for this study, though a list of verses for the next lesson will be available.
The Bible study meets every other week, and on the alternate Tuesdays, those wishing for some fun & fellowship will be meeting during the same time period online. We will play online games together such as Jeopardy, Wheel of Fortune, Family Feud, etc. Debbie Stenzel will host this enjoyable time together.
Help is available for those needing assistance with Zoom and joining the online study. Contact Debbie Stenzel by email here
or at (763)742-8923 with more questions.
Fitness Classes
Revelation Wellness - Freedom Joy and Fitness
Classes will be available IN PERSON, Wednesdays at 8:15am on same days Bible study groups meet.
For full schedule, please see Freedom Joy & Fitness facebook page
Other classes will continue to be held virtually through Zoom and available on YouTube. Zoom information updated regularly through Facebook. Schedule is listed below.
If you're not available at the scheduled times, the workouts will be available on YouTube Freedom Joy Fitness Channel