COVID-19 Updates
As we receive news from our local and national leaders regarding COVID-19, we want you to be aware of how we're responding as a church. Below are a few ways you can stay updated. Additionally, you can save this link where you'll be able to access updates from us through various communication channels: https://linktr.ee/nowthenalliancechurch
Current video update
sunday service
Sunday service will remain digital for the next few weeks. Livestreamed at 9:30 and available on website shortly after.
Message Study Guides
Serve your neighbors
Print the card below and distribute to those you'd be willing to come alongside during this season.
On-site ministry
Our on-site ministries are postponed through March while we get new procedures in place as recommended by the CDC for smaller groups to gather together in a public place again. We hope to resume them soon.
Email
If you aren't receiving emails from our church, please email Cindy Jacob at
Prayer Requests
If you would like to send in a prayer request or be added to the prayer chain that receives them, simply e-mail:
Facebook
We will update our Facebook page on a regular basis. We encourage you to 'like' the page and 'follow' the page! In settings, you can also choose to make the page a priority so you see every post we make. To visit our Facebook page, you can follow this link: https://www.facebook.com/NAChurch/
Youtube
To see Pastor Nate's video updates or to view recorded sermons, we encourage you to subscribe to our YouTube page. Just follow the link, and hit 'subscribe'. You can change settings so you receive a notification each time a video is uploaded. https://www.youtube.com/channel/UCE1pVkiaeVa2kYe_ndDmGgg
Children's Ministry
Parent Resources
With all the daily sometimes hourly changes that are happening in our world right now we want to help give you some resources that may be helpful. Below are a few materials to help lead your family during this time.
Managing Fear and Anxiety During a Health Pandemic
Anxiety Conversation Guide for Parents of Preschool age children
Anxiety Conversation Guide for Parents of Elementary age children
Sunday School and Children's Church
The Bible Studies for Life curriculum we use on Sunday mornings is available in the links below. You will be asked to create/register an account. This is completely free. In each resource there are lesson videos, conversation questions, worksheets, and color sheets. We are glad we can provide you with some Sunday School resources while we meet at a distance.
3/29 Birth-Preschool Sunday School
3/29 Kindergarten-6th Grade Sunday School
Color sheet for kids that follow Pastor Nate's sermon 3/29
4/5 Birth-Preschool Sunday School
4/5 Kindergarten-6th GRade Sunday School
Word Search that follow Pastor Nate's Sermon 4/5
Color Sheet that follows Pastor Nate's Sermon 4/5
AWANA Resources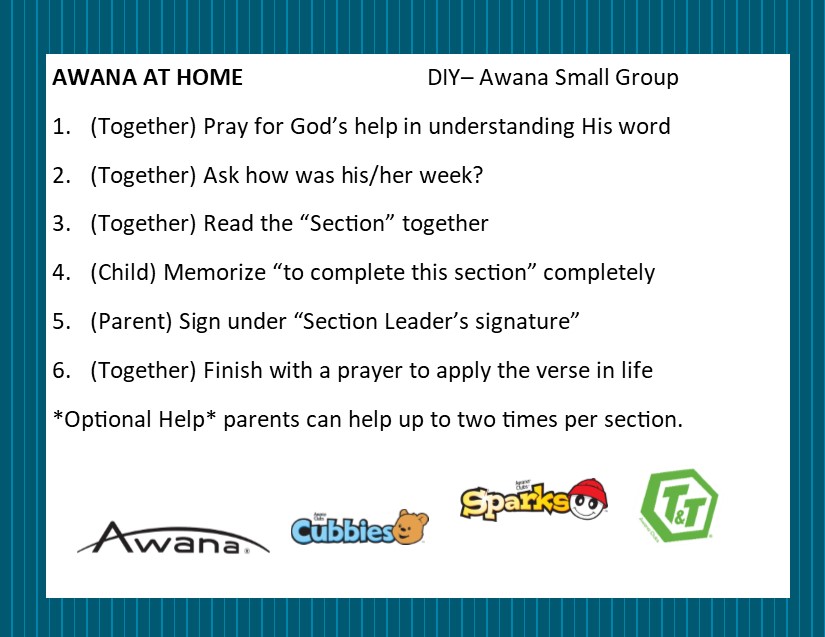 Grand Prix Promo
Grand Prix Race Video!
Cubbies
Enjoy this Cubbie Video for 3/25
Sparks
Sparks Video 3/25
Sparks Questions 3/25
T&T